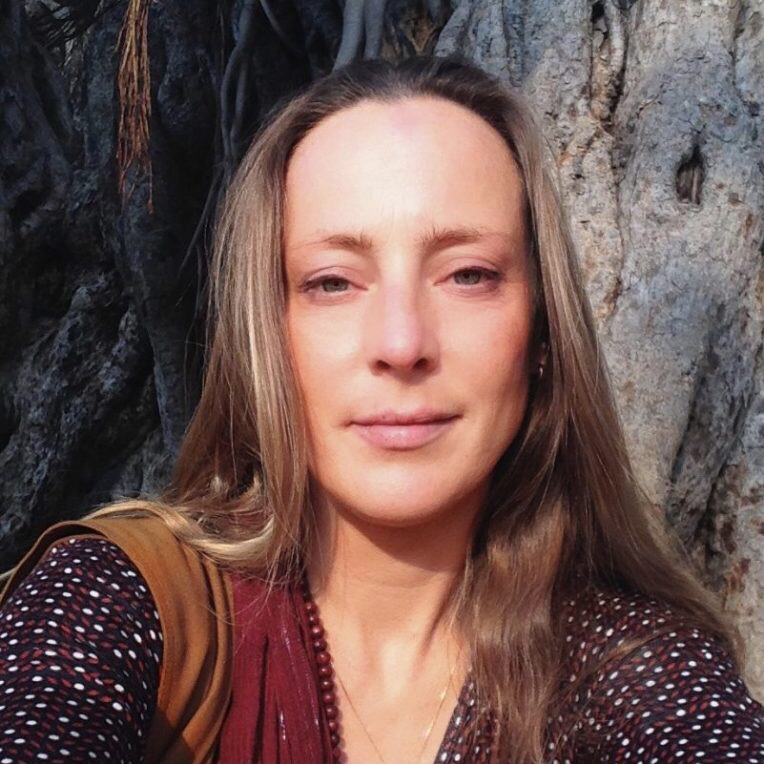 Francisca Adriana Schouten pratica Yoga desde 2004 e começou a ensinar em 2014 na Holanda, tendo feito o seu treino com 200h RYT e várias formações contínuas de professores na Bélgica, Holanda e Portugal, certificados pela Yoga Alliance Education (300h+).

"Quando comecei a praticar Yoga, foi como chegasse a casa, talvez por ter dançado e feito ginástica desde criança. Como se o corpo dissesse "obrigado" por me voltar a dar esse espaço e força novamente. Sem tensões físicas a minha visão da vida mudou, baseada em valores éticos, uma nova consciência e principalmente amor.

Primeiro, formei-me na Universidade de Ciências Aplicadas, em Serviço Social, Psicologia e Haptonomia, especializada em atendimento a jovens. Com 11 anos de experiência profissional, tornei-me Coach certificada pela Mind Motion. Para aprofundar a minha prática de Yoga, tive a oportunidade de estudar e praticar com Manju Pattabhi Jois, Sharath jois, Laruga Glaser, Dany Sá, David Swenson, Yoga Moves, AYA, Mirjam Wagner, Beta Lisboa e outros. Certifiquei-me também em Reiki e comecei a explorar a massagem Shiatsu e Tailandesa.

Em 2015, comecei a ensinar no BudaDharma no Saldanha em Lisboa e em parceria com o meu marido João Palma, facilitamos retiros de mindfulness e yoga.
Juntos, fizemos uma viagem espiritual à Índia e ao Nepal, onde seguimos as pegadas de Buda e onde procurámos entender como o Yoga, a Meditação, o Hinduísmo e o Budismo fazem parte da cultura local.

A prática de Ashtanga e de Yin Yoga fazem-me sentir equilibrada. Encontro-me refinando o que quero partilhar. A minha intenção é aumentar a energia positiva através da prática, inspirando outros a prosperar a partir das suas próprias forças com auto compaixão. Ao conectar corpo e mente, tornamo-nos mais pacíficos e presentes. O meu trabalho é fruto da experiência que a prática me traz e parte do coração".
---
ENGLISH
Francisca Adriana Schouten has been practicing Yoga since 2004 and began teaching in 2014 in the Netherlands, being trained with 200h RYT and several continuing Teacher Trainings in Belgium, the Netherlands and Portugal, certified by Yoga Alliance Education (300h +).
"When I started to practice Yoga, it felt like a true home coming. Maybe because of many years dancing and gymnastics from a young age. As if the body said 'thank you', for giving me that space and strength again. Physical tensions released and my vision of life changed. It all unfolded through ethical values, awareness and mostly love.
First, I've earned my degrees at the University of Applied Sciences, for Social work with Psychology and Haptonomy, specialized in Youth care. With 11 years of work related experience, I became a certified coach by Mind Motion. To deepen my Yoga practice, I had the chance to study and practice with Manju Pattabhi Jois, Sharath jois, Laruga Glaser, Dany Sá, David Swenson, Yoga Moves, AYA, Mirjam Wagner, Beta Lisboa, e.g. Out of interest I got certified in Reiki and started to explore Shiatsu and Thai massage.
In 2015, I began to teach at BudaDharma in Saldanha, Lisbon. Together with my husband João, I am guiding retreats. We went for a spiritual journey in India and Nepal, following the path of Buddha's life, experiencing how Yoga, Meditation, Hinduism and Buddhism manifest there.
Ashtanga and Yin Yoga make me feel balanced. I find myself refining what I want to share. My intention is to raise positive energy through the practice, by inspiring others to thrive from their own strength with self-compassion. By connecting body and mind, we become more peaceful and present. My work comes from experience and the heart".